Benefits of incorporating your existing or start-up business with us: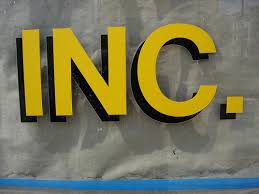 We examine the need for you to incorporate-believe it or not sometimes it is not worth incorporating.

We guide you which state is appropriate to incorporate your business.

We guide you in choosing appropriate corporate entity for your business a Corporation, LLC, LLP, LP, FLP, PS, LPS, PC or a Trust.

We guide you in choosing the appropriate tax structure for your entity.

We guide you about your rights and responsibilities of your entity and for a small fee help you maintain it on a regular basis.
Making an error in any one of the above issue can sometimes be extremely costly and in most cases you feel like "painting yourself in a corner." Sometimes the results are disastrous to the extent that you can subject your personal assets to a lawsuit.
You started a business or are in the process of starting a business. You are wondering whether to incorporate your business or not. There are plenty of service providers online that claim to incorporate your business for ridiculously low price. It is not until you start the online process it is revealed that the "low price" was just to do one thing – file articles. There is no guidance on any of the issues we outlined above.
Other options you have are going to an attorney and cough up hefty fees. We have many clients who walk in with incorporation folder the attorney or very well known online vendor has prepared. In most cases the folder is blank and often time even the federal id number for the entity is not there! The client then has to pay us to "fix" everything. In certain cases we can't help because the damage is irreversible.
We have prepared corporations and LLCs and other entities for our clients for decades. We have also helped our clients obtain Non Profit Status from IRS. We have also helped our clients obtain Religious and Tax Exempt Status from IRS.
So if you are thinking about incorpoating your existing or startup business then give us a call. Even if you went to someone and feel that you have no idea what happened with your corporation then give us a call. We can fix, in most cases, what the online vendor or the attorney has done or not done. 
Now comes the question of fees. If you consider the cost of fees compare to the amount of work and issues handled we are extremely reasonably priced. We provide all the necessary services you need to get your corporation, LLC in place and you will have a very clear understanding about your business structure once everything is done with us.
So what are you waiting for, give us a call. The initial consultation is FREE so you have nothing to lose and a lifetime of relation to gain. Call us today